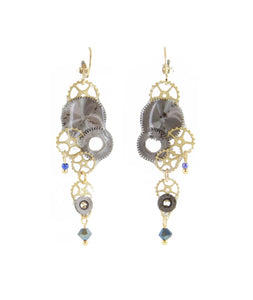 Requiem earrings
Requiem earrings with ear stud, made from real watch gears.

Your jewelry in detail:
Colors: Silver and gold
Length 5.5 cm
Material: Brass and resin, glass beads
Nickel and allergen free
100% handmade in France
The gears may be slightly different than the picture
About Victorian Rehab:
Victorian Rehab is a brand of jewelry made from real timepieces ancient wings of butterflies, cicadas and beetles. Achieved entirely in France, in our workshop, our creations are pieces unique at the confluence of a retro style and an effect decidedly in the air of time.
Maintenance recommendations:
Avoid contact with water, perfume and direct sun
Do not store in a room bath (as with all your jewelry)

Delivery :
The jewels are sent by letter followed in a padded envelope and protected by tissue paper.

Jewelry made to order, allow 5 days.

All Victorian Rehab jewelry is registered models.
Copyright Victorian Rehab